Locations 2021
Location 1: Magdalene Laundry Donnybrook
---
Location 1: Donnybrook Magdalene Laundry. This laundry is one of four Magdalene laundries to operate in Dublin, it accommodated 100 to 120 women at a time until 1996. The site operated as a commercial laundry until 2006. Women were imprisoned and enslaved in this building for 150 years, some spending their entire lives.

Plans to turn the site into apartments have been approved. The chimney stack is protected and will remain. There will be an artwork to commemorate the women and a plaque but the buildings will be lost to history. You can view a video of the inside of this laundry uploaded to YouTube 4 years ago, it is eerie viewing. Their names were taken when they entered the laundry, some only assigned a number instead of a name. If they ran away they were arrested for stealing the institute's uniform and returned. Punishment for any kind of disobedience included forced kneeling, beatings, and shaving of the head.

An Archaeological Assessment carried out on the Donnybrook site noted: "Since there are no clear records as to what happened to some of the women who operated within the laundries once they died, it remains a possibility that some are buried within the area of proposed development."

These horrors have come to light this year with the publication of a grossly inadequate report. Following this the Commission of Inquiry into Mother and Baby Homes was disbanded in February 2021 with so many unanswered questions and so many open wounds. This sheela stands in solidarity with the women of the laundries and their babies. May they find peace and healing and accountability.

Although we would love to think that the days of unpaid labour are behind us, data released by the National Women's Council of Ireland reveal a different story. Covid-19 has disproportionately affected women, who are more likely to take on childcare & are still doing the majority of unpaid work in the home. Covid-19 has also made it impossible for many women to escape situations of domestic abuse & violence. This sheela sends hope & strength to the women who are suffering for so many reasons during the pandemic.
---
Location 2: City Quay; Former Pornhub Offices
---
MG Content RK Limited is a subsidiary of the Irish-incorporated MindGeek Ireland Holding Limited - parent company is MindGeek SARL. This firm owns a number of adult websites - the most visited in the world, which profit massively off the abuse of women and minors. The porn industry has been particularly hard to challenge, however a powerful campaign called TraffickingHub was founded by @lailamickelwait - a non-religious, non-partisan effort to hold the largest porn website in the world accountable for enabling and profiting off of the mass sex-trafficking and exploitation of women and minors. Please check out @lailamickelwait and her amazing work, plus the #TraffickingHub website to see their world changing victories, including Pulitzer Prize-winning journalist Nicholas Kristof's New York Times exposé on Pornhub, which created international shockwaves.
Since, Pornhub has removed its infamous download button and deleted 10+ million of its videos, nearly 80% of its video collection, which speaks volumes.
Victims of image-based sexual abuse are not taken seriously in Ireland, with few avenues of redress and an often hostile legal system.
In November 2020, 1000s of sexual images of Irish women and girls had been shared without their consent through Discord. The evening after the report, the leading searches on Irish pornography sites (MindGeek) included 'discord nudes,' and 'Ireland girls nude photos'.
In December, Coco's law, which makes online harassment and image-based sexual abuse a criminal offence, was passed after a 3 year long campaign (named after Nicola Fox, who tragically took her own life in 2018 following sustained online abuse).
This is only the first step. The law needs to be supported with proper resources for Gardaí & victim support organisations. We need a massive societal shift & education in schools. Social Democrat @holly_cairns_td expressed that 'as a nation we also need to have an incredibly serious and difficult conversation about this', and has urged men who see explicit images shared amongst their friends or online to call them out.
---
Location 3: Merrion Square -Jane Wilde
---
Sheela pays tribute to a strong woman from the past. Everyone has heard of Oscar Wilde but not so many have heard of his mother Lady Jane Wilde. She was a prominent Irish nationalist. In the wake of the Famine she began collecting folklore from the west of Ireland, the precursor to both Yeats and Gregory. She use to write for the Nation Newspaper under the pseudonym "Speranza", she
called for armed insurrection causing the paper to be shut and its owner brought to court. Charles Gavan Duffy owner of the newspaper never gave up the
identity of Speranza for fear it would ruin Jane Wilde. She also invited Millicent Fawsett to her home here in no 1 Merrion Square to speak about womens suffrage.
---
Location 4: Irish Refugee Council
---
To mark International Women's Day 2021, the IRC employment team held a seminar on the theme of 'Advocating for Inclusive Employment', featuring a discussion and reflection with women living in Direct Provision.
The lack of knowledge of the Irish labour market and recruitment processes, non-recognition of prior work experience and/or qualifications, and limited English language skills pose a significant challenge to finding work often, which is compounded by the experience of 'institutionalisation' under the appalling Direct Provision system. The situation for women is further exacerbated due to the lack of sufficient childcare supports.
In 2018, the IRC established the Women's Employment Programme, which empowers new arrivals to navigate Ireland's employment systems.
Sheela also wishes to bring attention to the genius 'Let's Match Mums' initiative by Louisamay Hanrahan:
''Last summer, we put together baby boxes for expectant mothers in DP. We had impressive volumes of mothers in Dublin & Ireland donating very high-quality baby products that asylum seekers in DP were delighted to receive. It became clear that as the baby grew, the mothers in DP would be in need of more items & the mothers who were donating would have more donations to give. This is when we thought of the idea to match mothers with children of similar ages with one another, to keep donations going and to ensure that we are listening to and considering the needs of asylum seekers. ''
With Mother's Day approaching, Let's Match Mums want to connect with mothers in direct provision to offer help, and mothers who'd like to donate, or match with others, which can be anonymous. Follow them @letshelpdirectprovision
There are more than 7,000 people living in Direct Provision centres across Ireland, with a weekly allowance of €38.80 per adult to buy overpriced necessities (including female sanitation products)within a for-profit, prison-like system, which many remain in for years. Sheela stands with migrant women and their children, and demands to abolish direct provision.
---
Location 5: Chancery St, Greta Thunberg (and Bernie Sanders) murals by Irish street artist Emmalene Blake
---
Emmalene paints passion pieces influenced by current issues, including human rights campaigns, environmental issues, mental health awareness and homelessness. She designed this piece after Greta's famous 2019 UN speech. She decided to paint it now to mark her 18th birthday in January, and to remind people of her words and the fight against climate change ahead of us. Greta is a role model for children and adults around the globe in the fight for climate justice.
Climate change is one of the greatest global challenges of the 21st century. Based on the findings of the IPCC, it is evident that people who are already most vulnerable and marginalised will also experience the greatest impacts.
Women are increasingly being seen as more vulnerable than men to the impacts of climate change, mainly because they represent the majority of the world's poor and are proportionally more dependent on threatened natural resources. The difference between men and women can also be seen in their differential roles, responsibilities, decision making, access to land and natural resources, opportunities and needs. Worldwide, women have less access than men to resources such as land, credit, agricultural inputs, decision-making structures, technology, training and extension services that would enhance their capacity to adapt to climate change.
Women's vulnerability to climate change stems from several factors - social, economic and cultural. 70% of the 1.3 billion people living in conditions of poverty are women.
Women play a much stronger role than men in the management of ecosystem services and food security. Hence, sustainable adaptation must focus on gender and the role of women if it is to become successful.
Sheela believes we must bring attention to both individuals and more importantly, to systemic, structural issues that affect human rights.
Special shoutout to Bernie Sanders also, for championing the Green New Deal, reproductive rights, childcare, family leave, anti-racism, strengthening of unions, Medicare for All etc...all of which are feminist issues.
---
Location 6: Transgender Equality Network Ireland
---
TENI is a non-profit member-driven organisation, founded in 2006. Their vision is a world where all people, regardless of gender identity or expression, enjoy full acceptance, equality and human rights. Their mission is to advance the rights and equality, and improve the lives of trans people and their families. Sheela stands for the rights of trans people with love, warmth and acceptance.
---
Location 7: Department of Health
---
The CervicalCheck cancer scandal first emerged in 2018 after it came to light that many Irish women had received incorrect smear test results for cervical cancer. The HSE had outsourced testing to substandard laboratories to save money! The HSE found out that many of these tests had given a false clean bill of health to hundreds of women, yet the women were not informed until years after the HSE had this knowledge. In 2018 the death toll from this scandel was at 20 women with over 200 women undergoing cancer treatment. This sheelas sticks her tongue out at the department of health for regarding women's health, women's LIVES with such little respect. Sheelas heart goes out to the children who cannot be with their mothers today because of the negligence of the HSE. Their deaths were needless and should have been prevented. Sheela sends love to all the women fighting for their lives when they shouldn't have had to. We must demand better healthcare for women and better pay and conditions for nurses, who we rely on in the darkest of moments. The history of women's healthcare in this country is atrocious, it is shameful! Enough is enough.
---
---
Locations 2020
Location 1: The Forty Foot
---
The Forty Foot, Sandycove. In 1974 a group of women invaded the Forty Foot foot, traditionally a male only swimming area. The Dublin City Women's Invasionary Force protested on the shore with placards and took to the waters. Watch the RTE archive footage of this, it's hilarious how angry the men are! Women have swum in the area ever since this protest. This Sheela thanks these women for fighting for basic rights, so we can all enjoy the Forty Foot.
---
Location 2: Magdelene Laundry, Sean Mac Dermott Street
---
This Sheela na Gig honours the women who suffered here. This was the last Magdelene Laundry to close down, and it wasn't that long ago -1996. The site is owned by the state and plans were underway to sell it, for that's right you've guessed it -another hotel. After public pressure Dublin City Councillors blocked the sale and plans are underway to turn the building into a memorial for victims with housing and an educational centre. The site represents a shameful part of Irish history where women were abandoned by their families and forced to endure horrific abuse at the hands of the Catholic Church, who profited from their slave labour. It is important for us to remember our past so we don't make the same mistakes again. May Irish women never be shamed, used and abused like this ever again, may we be proud of our bodies and our sexuality. May we never turn a blind eye to those in power and stand in solidarity with our sisters to end inequality and physical, sexual and mental abuse. We must demand the Church take responsibility to its crimes against the people of Ireland and pay compensation that's due to the women tortured by the Magdelene Sisters.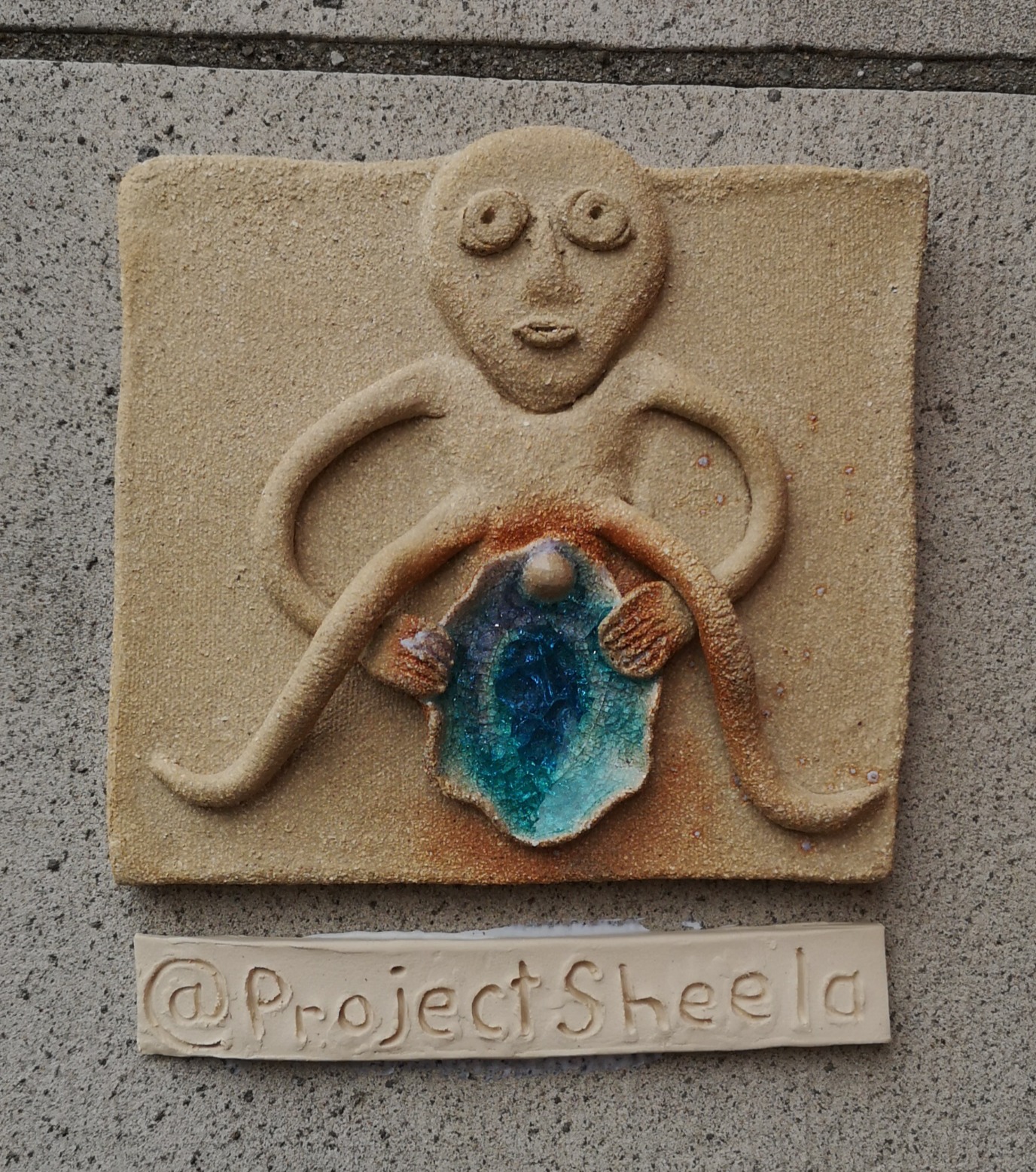 ---
Location 3: Kilmainham Gaol
---
This Sheela honours the fearless women of the 1916 rising that were imprisoned here.
Winifred Carney, Annie Cooney, Brigid Davis O'Duffy, Brigid Foley, Nellie Gifford, Brigid Martin, Madeleine ffrench Mullen, May Gahan, Maura Gibney O'Neill, Ellen Humphreys, Dr. Kathleen Lynn, Rose MacNamara, Josie McGowan, Kitty Maher, Helena Molony, Countess Markievicz, Nora O'Daly, Countess Plunkett, Marie Perolz, Nell Ryan, and Brigid Lyons Thornton. Sheela also remembers artist and political cartoonist Grace Gifford who married Joseph Plunkett here before his execution and was later imprisoned herself in 1923 for her involement in the anti-treaty side of the civil war.
---
Location 4: Glasnevin Cemetery
---
The grave of Hanna Sheehy-Skeffington, Glasnevin Cemetery. This Sheela honours Hanna Sheehy Skiffington, suffragette, Irish nationalist and founder the Irish Women's Franchise League in 1908 with the aim of obtaining women's voting rights. Her husband was killed during the 1916 rising. She was later a founding member of the Irish Women Workers' Union. During the 1930s she was assistant editor of An Phoblacht a journal of the Irish Republican Army. In January 1933 she was arrested in Newry for breaching an exclusion order banning her from Northern Ireland. At her trial she said: "I recognize no partition. I recognize it as no crime to be in my own country. I would be ashamed of my own name and my murdered husband's name if I did… Long live the Republic!" and was sentenced to a months imprisonment. In 1935 she spoke out against the Conditions of Employment Bill on behalf of the Women Graduates' Association, which was set to restrict the opportunities of employment for women. In 1937 she became a founding member of the Women's Social and Progressive League, whose goal was to inform women of the consequences of the anti-women legislation which was being attempted to be passed through the Dáil. Sheela thanks you Hanna for everything you did for Irish women.
---
Location 5: Glasnevin Cemetery
---
The grave of Rosie Hackett, St Paul's section of Glasnevin Cemetery. This Sheela honours Rosie Hackett, an Irish insurgent and trade union leader. She was a founding member of the Irish Women Workers' Union -women were not allowed join existing trade unions so they started their own. She supported strikers during the 1913 Dublin Lockout and later became a member of the Irish Citizen Army and was involved in the 1916 Easter Rising. Through her experience of working in the printshop she helped to print the Proclamation of the Irish Republic, and later said she gave it to James Connolly before it was read out by Padraic Pearse on the steps of the GPO. On the anniversary of James Connolly's death in 1917, the ITGWU hung a banner from Liberty Hall stating James Connolly had been murdered. The police removed the banner but Rosie aided by three other women made a new banner, climbed onto the roof of Liberty Hall, nailed the doors shut, and rehung the banner. She allegedly later bragged that it took 400 policemen to take down four women. Sheela thanks you for your courage Rosie.
---
Location 6: The Coombe
---
This Sheela honours the incredible women that have given life, lost life and endured great suffering, grief, joy and pain in these walls. This Sheela celebrates how truely amazing, strong and powerful women are. Sheela respects each womens right to choose and each womens right to consent. Women have endured many injustices in Ireland's maternity hospitals, the butchery of symphysiotomy and episiotomy, forced pregnancies, contaminated anti-d, there's too many cases to mention here. May women have full control over their own birthing experience and how they are treated at their most vulnerable. May the incredible midwives that work here be granted the respect that's due to them and may they have fair working conditions and better pay.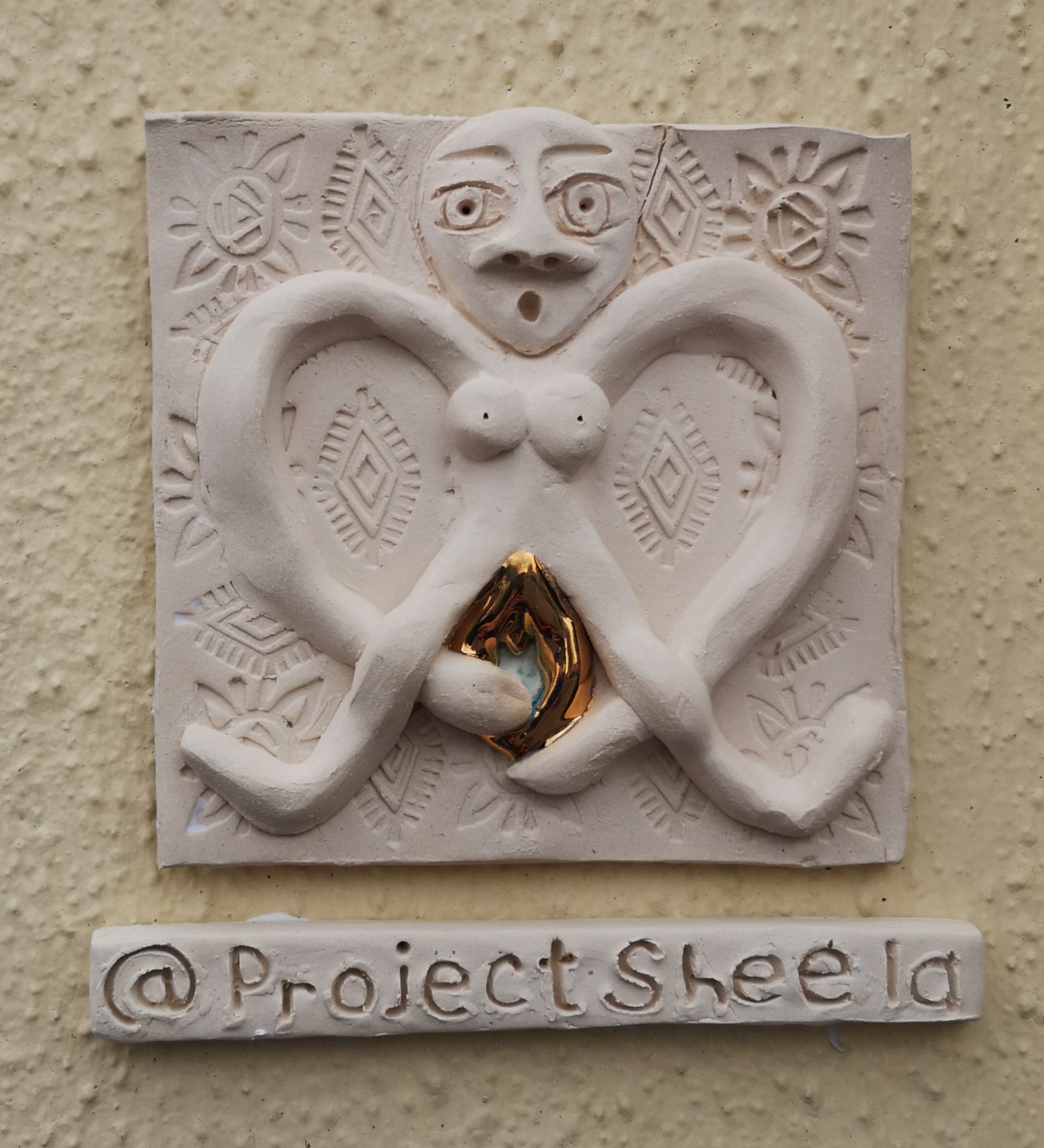 ---
Location 7: Neary's Pub
---
Believe it or not in the 1970's women in Ireland were not allowed to order pints of beer. In fact Irish women had no legal rights to the pint until 2000! A founding member of the Irish Women's Liberation Movement Nell McCafferty, helped organise protests using civil disobedience to challenge this ridiculous fact, most notably here at Neary's Pub. Thirty women ordered a brandy at the bar, then they ordered a single pint, when they were refused they all drank their brandy and left the bar without paying. Sheela encourages all women to have the bravery and determination to stand up for equal rights.
---
Location 8: Wilton Place
---
Women's Aid is a leading national organisation that has been working in Ireland to stop domestic violence against women and children. Since their foundation in 1974, there has been a profound shift in social, cultural and political attitudes towards abused women in Ireland. Women's Aid has played a crucial part in this shift. Their direct services to women have been supported by their efforts to change and improve societal and political responses to domestic violence. In addition to their Direct Services, Women's Aid acts for justice and social change by engaging in policy, representation and communications and campaigns activity at a national level. Women's Aid also provides extensive information and statistics on domestic violence in print and onlineTheir ultimate aim is to stop domestic violence and make women and children safe. Sheela thanks all who work tirelessly at Women's Aid.
---
Location 9: Upper Mount Street
---
Together for Yes is an abortion rights campaign group in Ireland. They are an umbrella group made up of over 70 organisations, groups and communities representing a diverse cross-section of Irish civil society. They are a huge grassroots movement built from the ground up over the last three decades, which has huge support in every community, village and town in Ireland. It campaigned successfully for a Yes vote in the 2018 referendum to ratify the Thirty-sixth Amendment, which removed the Eighth Amendment's constitutional ban on abortion in Ireland. It was a landmark moment for women's rights in Ireland.
They represent those people who believe that we must support, respect and protect women in their time of greatest need. Together For Yes is co-led by the National Women's Council, the Coalition To Repeal The 8th Amendment and the Abortion Rights Campaign. They are broad and diverse, but very focused. They are rooted in the experiences of women and their families, and focused on achieving laws and services that respond to women's needs and to best medical practice.

Sheela thanks everyone at Together for Yes and everyone who voted YES
---
Location 10: Connolly Station
---
The Contraceptive Train was a women's rights activism event which took place on 22 May 1971. Members of the Irish Women's Liberation Movement, in protest against the law prohibiting the importation and sale of contraceptives in the Republic of Ireland, traveled to Belfast to purchase contraceptives. The women bought condoms and spermicide jelly and instead of buying the pill they bought hundreds of packets of aspirin, as they needed prescriptions to get the pill and they realised that the majority of the custom officials would not know what the pill would looked like. On arrival back at Connolly Station, there were protesters demonstrating, waiting for them to arrive. At customs, the women involved loudly declared what they had purchased and refused to hand over the contraceptives. Some women publicly swallowed the aspirin in defiance of the law, pretending it was the pill. Others waved the contraceptives in the air as the passed through the station. Women who were involved with the Contraceptive Train put themselves at risk of being detained or prosecuted for bringing birth control into Ireland. They also risked social stigma in an Ireland very different from today. This Sheela thanks the women of the contraception train and celebrates womens right to choose if they want to become pregnant and when.
---
Location 11: Rathmines
---
This Sheela honours the life of Constance Georgine Markievicz, Irish politician, revolutionary, nationalist, suffragist and socialist. The first woman elected to the Westminster Parliament and was elected Minister for Labour in the first Dáil, becoming the first female cabinet minister in Europe. A founding member of Fianna Éireann, Cumann na mBan and the Irish Citizen Army, she took part in the 1916 rising, when Irish republicans attempted to end British rule and establish an Irish Republic. She was sentenced to death but this was reduced on the grounds of her sex, which she protested against. Sheela looks directly at the home of Markievicz, situated on the wall opposite her home on Frankfort Avenue. Many revoluntionary meetings were held inside those walls and Sheela looks on proud and defiant.
---
Location 12: Gaj's Restaurant, Baggot Street
---
The Irish Women's Liberation Movement had their meetings in Gaj's restaurant on Baggot Street every Monday. Gaj's restaurant was owned by Margaret Gaj who was a feminist socialist activist. It was initially started with twelve women, most of whom were journalists. In 1970 they published their manifesto called Chains or Change, which sold out immediately.
The Chains or Change manifesto had six aims: Equal rights in law. Equal pay and the removal of the marriage bar. Justice for widows, single mothers and deserted wives. Equal educational opportunities. The right to contraception. One family, one house.

The issue of abortion was still too volatile for IWLM to discuss, even among their members, so it was never part of the manifesto.
Margaret Gaj died in 2011, at the fine age of 92. She had devoted much of her life to the struggle for a better world. While she originally hailed from Edinburgh (and never quite lost the accent), she made important contributions to Dublin life in her time, and her restaurant became a part of the fabric of the city, at least as far as its radicals were concerned.

Sheela thanks all the women involved in this movement for all they did for equal rights in Ireland. Especially our friend Rosita Sweetman.
---
Location 13: Killarney Court
---
Akina Dada wa Africa-AkiDwA (Swahili for sisterhood) is a national network of migrant women living in Ireland. AkiDwA's vision is a just society where there is equal opportunity and equal access to resources in all aspects of society – social, cultural, economic, civic and political. Their Mission is to promote equality and justice for all migrant women living in Ireland. The organisation works with migrant women to build their capacity to participate in in all public spheres through training, awareness raising, consultation, focus groups discussions, information provision, research and policy development.
AkiDwA has been raising awareness on the issue of Female Genital Mutilation since 2001. Providing information on FGM is key in assisting families in their decision to abandon the practice. Awareness raising of professionals working with children who are at risk of FGM is also extremely important in preventing FGM before it occurs.

AkiDwA has a network of volunteer community health ambassadors throughout Ireland raising awareness on FGM in their local communities. Sheela honours all at Akidwa and the work that they do. Sheela supports an Ireland that is welcoming to all migrants.
---
Location 14: The Rotunda
---
This Sheela honours the incredible women that have given life, lost life and endured great suffering, grief, joy and pain in these walls. This Sheela celebrates how truely amazing, strong and powerful women are. Sheela respects each womens right to choose and each womens right to consent. Women have endured many injustices in Ireland's maternity hospitals, the butchery of symphysiotomy and episiotomy, forced pregnancies, contaminated anti d, there's too many cases to mention here. May women have full control over their own birthing experience and how they are treated at their most vulnerable. May the incredible midwives that work here be granted the respect that's due to them and may they have fair working conditions and better pay.
---
Location 15: King Street North
---
National Women's Council of Ireland. A non-governmental, not-for-profit organisation, founded in 1973, to seek to achieve equality for women. NWCI's mandate is to take action to ensure that the voices of women in all their diversity are heard. Our vision is of an Ireland and of a world where women can achieve their full potential in a just and equal society. Sheela thanks all at NWCI for striving for a better and more equal Ireland.
---
Location 16: Leeson Street Lower
---
Since 1979, The Dublin Rape Crisis Centre has worked to prevent the harm and heal the trauma of sexual violence. They work with men and women who have experienced sexual assault, rape or childhood sexual abuse.
Sexual violence is a serious public health and human rights issue with both short and long-term consequences for those affected. The Dublin Rape Crisis Centre has been at the forefront of the Irish response to sexual violence for almost 40 years. They work with government, non-profit organisations, academic institutions, and the general public to ensure that all available resources to prevent sexual violence are utilised.

Their vision is a of a society in which sexual violence is not tolerated but that, when it does occur, survivors are provided with information and care that support their empowerment and resiliency.

The mission of The Dublin Rape Crisis Centre is to prevent the harm and heal the trauma of rape and other forms of sexual violence. They work to prevent sexual violence and to eliminate its tolerance in society through education, training and awareness-raising campaigns. When sexual violence does occur, they offer a range of supports including telephone counselling through the National 24-Hour Helpline, face-to-face counselling, and accompaniment services. They also advocate on behalf of survivors of sexual violence to help ensure that they have access to responsive and sensitive services provided by law enforcement officials, medical personnel and the courts.
Sheela thanks those workers and volunteers for their vital contribution to Irish society.
---
---